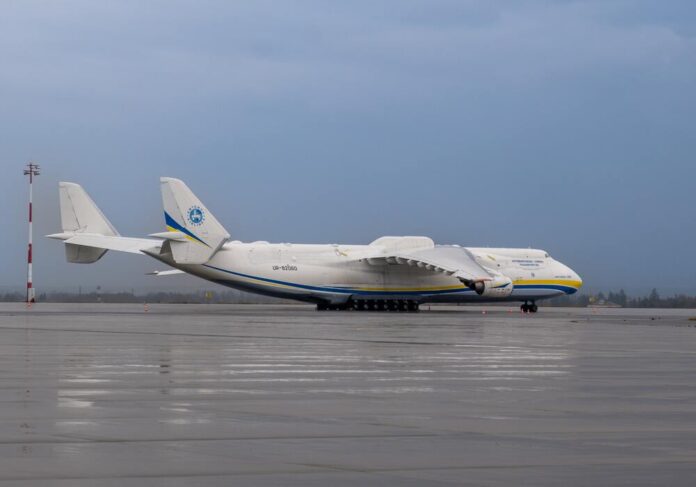 Faster, higher, bigger, quicker. The development of aviation has always stood out with records. Large airplanes have always played a special role. We will show you the five greatest airplanes of all time.
5) Antonov An-124
Wingspan 73.30 meters
An-124 Ruslan began its maiden flight on December 26, 1982. Developed in the Soviet Union as a replacement for the C-5 Galaxy, it is now the world's leading heavy-lift civilian aircraft. It ensures that cargoes can be loaded and unloaded without any problems, even in remote areas with poor infrastructure.
Its solid undercarriage and high wing design allow An-124 to take off and take off even on hard frozen snow and gravel roads. Ruslan can be loaded with bulky cargo both through the rear ramp and through the folding trunk nose. For this purpose, the double row nose gear can be lowered, providing smooth loading directly from the ground. All types of vehicles, including tanks, can be transported with an extendable ramp.
Technical data:
Engine: 4 x Iwtschenko Progress D-18T
Wingspan: 73.30 m
Length: 69.10 m
Height: 21.08 m
Wing area: 628 m² Empty
weight: 175,000 kg
Maximum take-off weight: 405,000 kg
Load: 150,000 kg
Cruising speed: 800 km/h
Range: 4800 km (with maximum load)
4) Airbus A380
Wingspan 79.80 meters
The largest member of the Airbus family flew for the first time on April 27, 2005. It also holds the title of the world's largest passenger aircraft. With its consistent double-decker layout, the A380 is far more unique than any other aircraft today. This aircraft is a favorite of many aircraft fans with its splendor.
Even today, this two-story giant is quite impressive for onlookers. Emirates is the largest customer for this aircraft, and Lufthansa also operates a fleet of A380s. This giant consumes much more fuel than smaller twin-engine airplanes like the Boeing 787 or Airbus A350, which intimidates other airlines.
Technical data:
Engine: 4 x Engine Alliance GP7200 or 4 x Rolls-Royce Trent 900
Span: 79.80 m
Length: 72.80 m
Height: 24.10 m
Wing area: 845 m²
Curb weight: 270.015 kg
Maximum take-off weight: 560,000 kg
Cruising speed: Mach 0.82
Range: 14,816 km
3) Antonov An-225
Wingspan 88.40 meters
It was the heaviest and longest aircraft in existence in terms of volume, but was shot down by Russian forces at Kyiv Gostomel Airport during the Ukraine-Russia conflict. Antonov's "Mriya" (Dream) aircraft is a further development of the smaller An-124 and was originally designed to transport the Soviet space shuttle Buran. It took off from Kiev on December 21, 1988 for its maiden flight. Like its younger sibling, An-124, the An-225 can be loaded and unloaded easily over the ramp thanks to its lowered nose gear. But unlike the An-124, there is no possibility of loading at the back.
Antonow 225 currently holds 240 world records. These include the record for the heaviest cargo ever transported in an airplane (247 tons of oil pipeline equipment from Prague to Tashkent on June 16, 2004) and the heaviest single piece of cargo ever flown (a 190-tonne gas-fired power station generator, 11 He flew from Hahn to Armenia in August 2009).
Technical data:
Engine: 6 x Iwtschenko Progress D-18T
Wingspan: 88.40 m
Length: 84m
Height: 18.20 m
Wing area: 905 m² Empty
Weight: 285,000 kg
Maximum take-off weight: 600,000 kg
Load: 250,000 kg
Cruising speed: 800 km/h
Range: 4500 km (with 200,000 kg load)
2) Hughes H-4
Wingspan 97.54 meters
A billionaire's dream made entirely of wood. Howard Hughes' giant flying boat is the second largest aircraft ever built, with a wingspan of 97.54 metres. However, the Spruce Goose flew only once, on November 2, 1947.
At 1:40 p.m. local time, the huge plane took off after two rapids of water, rising about a mile off the water off Long Beach. It accelerated to almost 160 km/h, but did not exceed a height of 20 meters.
Technical data:
Engine: 8 x Pratt & Whitney R-4360
Wingspan: 97.54 m
Length: 66.50 m
Height: 24.18 m
Wing area: 1059 m²
Takeoff weight: 180,000 kg
Load: 68,947 kg
Travel speed: about 400 km/h
1) Stratolaunch
Wingspan 117 meters
For more than 70 years, the Spruce Goose was at the top of the list of greatest airplanes of all time, but was eventually deposed with the advent of the Stratolaunch carrier planes.
Developed by US company Stratolaunch Systems and built by Scaled Composites in Mojave (California), the dual-body aircraft aims to serve as a carrier for manned rocket launches into space, thereby making satellite launches much cheaper than before.
Technical data:
Engine: 6 x Pratt & Whitney PW4056
Wingspan: 117 m
Length: 73m
Height: 15m
Curb weight: 226,796 kg
Maximum take-off weight: 589,670 kg Maximum
Speed: 853 km/h
Range: 1852 km with external loads (4,630 km empty)