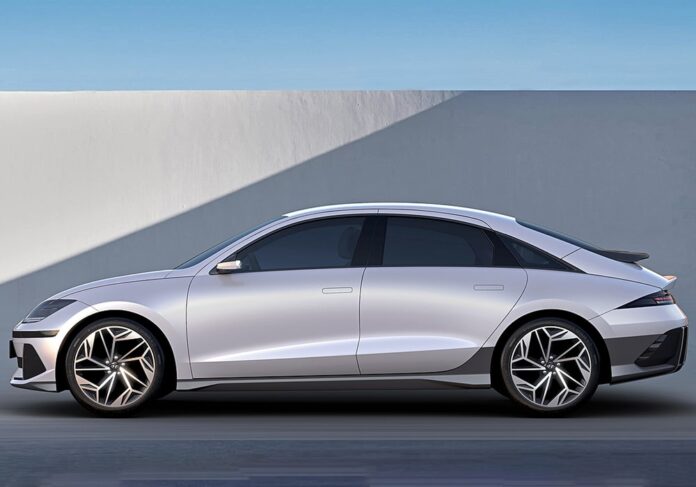 Hyundai Motor Company has released official photos of the all-electric "IONIQ 6" model exclusive to the IONIQ brand. The modern and timeless design of the highly anticipated IONIQ 6, the second model of the IONIQ brand, stands out as a remarkable privilege. The IONIQ 6, which Hyundai describes as the "Electrified Streamliner", is aerodynamically shaped and innovatively designed for today's electric car customers to enjoy their vehicle more and create an emotional connection.
Full 64 color themes in interior ambiance
IONIQ 6 allows various expansions for optimized legroom and spaciousness for passengers to travel more comfortably. The platform also allows for a completely flat floor, offering more seating. The user-oriented interior is equipped with a centrally located control unit to reduce distractions and ensure safe driving.
This modular display, combined with the 12-inch full-touch infotainment screen, completely envelops the cockpit. Bi-colour ambient lighting also elevates the ambiance of the IONIQ 6's interior.
Including 64 color themes specially developed for users to feel comfortable, Hyundai also helps to provide easy communication between the driver and the vehicle with 4-point interactive pixel lights on the steering wheel.
Aerodynamically flawless design
The IONIQ 6 supports the low nose structure with active air wings and wheel arches at the front. This 0.21 ultra-low friction coefficient obtained in the design, which is continued with the digital mirrors that we come across as thin, also means the lowest value among the models produced by the brand in-house.
To further contribute to the enviable aerodynamic capability of the IONIQ 6, an elliptical spoiler with blades has been used. With its tail-like structure in speedboats, the vertically positioned ventilation channels on both sides of the rear bumper create a unity and increase the downforce.