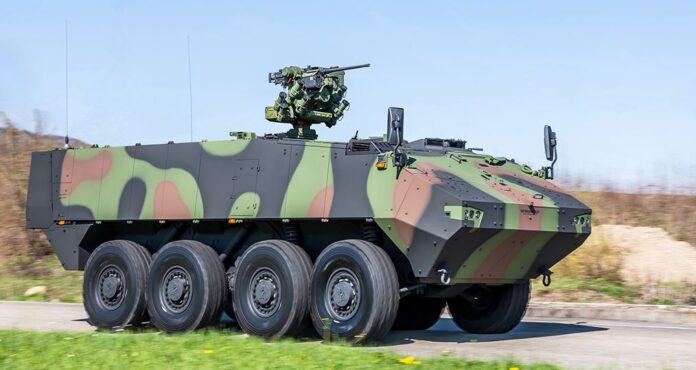 The Spanish Ministry of Defense recently announced that the "Dragon" eight-wheeled armored vehicle jointly produced by General Dynamics Europe and Spain's domestic arms manufacturers has passed the critical design review stage at the end of July, and the first batch of mass-produced models will soon begin testing.
The "Dragon" eight-wheeled armored vehicle was announced by Spain in 2020. It is estimated that it will be equipped with 348 vehicles, with a total contract value of 2 billion euros.
The Dragon armored vehicle is an authorized production version of the fifth generation of the well-known "Pinraha" series of armored vehicles owned by the Swiss arms manufacturer Mowag.
Mowag was acquired by General Dynamics in 2003 and will therefore be owned by General Dynamics Europe, as well as several domestic Spanish arms manufacturers including Indra Systemas and Santa Bárbara Systemas Joint assembly production.
The fifth generation of Piranha is the latest product launched by Mowag in 2015. It weighs 33 tons, has a length of 8 meters, a width of 2.99 meters, and a height of 2.34 meters. In addition to the 3 crew members, it can carry 8 fully armed soldiers.
The power source is the MTU 6V199 TE21 diesel engine with a maximum output of 577 horsepower, a top speed of 100 kilometers per hour, and a combat distance of up to 1,000 kilometers.
The Spanish version of the Dragon armored vehicle is expected to be equipped with a 30 mm machine turret produced by Leonardo or Escribano, and the Spanish Marine Corps also plans to purchase a version with a 120 mm low recoil main gun , to replace the current fleet of aging M60A3s.
The Spanish Ministry of Defense said that of the 348 Dragon armored vehicles currently expected to be procured, 219 are infantry combat vehicles (VCI), 58 reconnaissance vehicles, 49 engineer combat vehicles and 14 command vehicles.
In the future, the total procurement of Dragon armored vehicles will be as high as 1,000 vehicles.
The new Dragon armored vehicle will gradually replace the 689 self-made Pegasos 3560 six-wheeled armored vehicles currently in service with the Spanish Army.
Image Source: GDELS