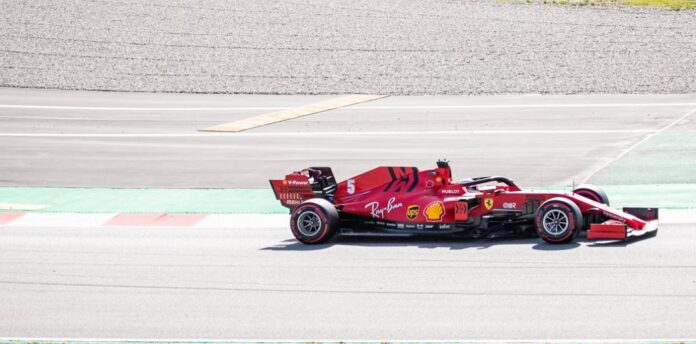 Three months after his last victory, Charles Leclerc returned to victory in the Austrian Grand Prix. He won ahead of Max Verstappen and Lewis Hamilton.
This Sunday, July 10, the pilots return to the Styrian mountains and greenery ! As every year since 2014, the ten teams come to race on the magnificent Spielberg circuit for the Austrian Grands Prix. Known as the Österreichring between 1970 and 1987 and then A1-Ring between 1997 and 2003, the Austrian circuit has now been called the Red Bull Ring since 2014. Located near Zeltweg, the 4.318 km long track made up of 10 – circuit with the fewest corners on the calendar – promotes speed with three full loads impacted by changes in elevation making the driver's task more complex than it seems.
Lap 54: A little further in the standings, Russell erases Alonso at turn 3. The Briton climbs to 6th place! 
Lap 56: Lap record for Carlos Sainz! The Spaniard is 1.2 seconds behind Verstappen.
Lap 57: INCREDIBLE! Carlos Sainz's engine has just failed. The Spaniard has to give up.
Lap 58: VIRTUAL SAFETY CAR! The Spaniard gets out of his car as the engine catches fire.
Lap 59: With this abandonment of Sainz, Lewis Hamilton climbs to 3rd position! 
Lap 60: During the intervention of the VSC, Leclerc and Verstappen took the opportunity to change tires and switch to the mediums. 
Tour 60: End of the VSC, the race resumes its rights!
Lap 61: Worried about the situation, Charles Leclerc indicates having a strange sensation on his accelerator pedal, however his engineer reassures him. 

Lap 62: Leclerc and Verstappen exchange the best lap! 

The Dutchman is faster. 

Lap 63: George Russell goes back to 4th position! 

The Briton has just got rid of the Alpine d'Ocon.

Tour 64: Charles Leclerc insists with his engineers! The Monegasque seems to have a strange feeling with his accelerator pedal.
Lap 65: Charles Leclerc's engineer tells his driver that the pedal tends to block at times, hence the discomfort felt by Leclerc. 
Tour 67: At the same time, Max Verstappen begins to increase his pace and the Dutchman returns to 2.7 behind the Ferrari. 
Lap 69: The situation becomes critical, Charles Leclerc indicates that with his accelerator problem, the gears do not go down correctly. 
Last lap: Charles Leclerc starts the last lap 2 seconds ahead of Max Verstappen! 
Checkered flag: VICTORY FOR CHARLES LECLERC! FERRARI VICTORY! The Monegasque returned to victory by finishing ahead of Max Verstappen and Lewis Hamilton who won a third consecutive podium.