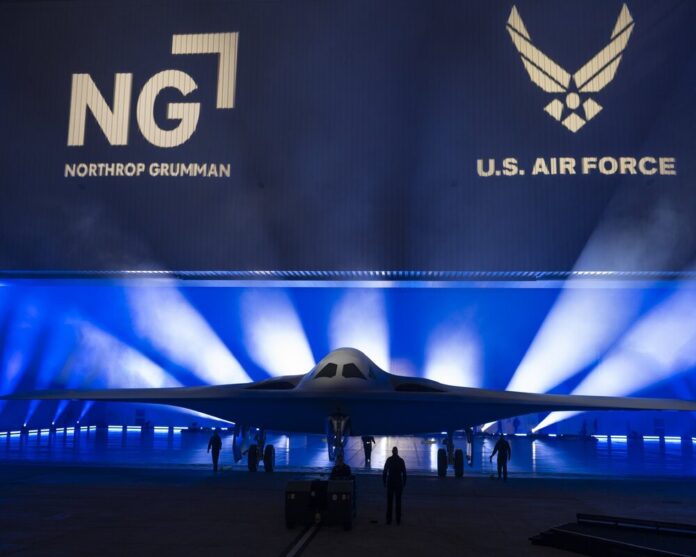 At a ceremony at Palmdale Air Force Base, Northrop Grumman and the US Air Force unveiled the first B-21 Raider strategic bomber to the public. This aircraft represents the future of US Air Force strategic aviation and includes new systems, highly advanced stealth and capable of performing many missions.
The long-awaited ceremony took place
On December 3, Northrop Grumman and the United States Air Force (USAF) held a ceremony to introduce the first B-21 Raider to the public. Many local and foreign press members attended the ceremony.
After the American national anthem, Northrop Grumman CEO and President Kathy J. Warden gave a speech, and the highly anticipated B-21 Raider bomber emerged from the hangar behind it. After the B-21 was removed, it was pulled from the hangar by a Push-Back vehicle. The B-21's resemblance to the legendary B-2 bomber produced exactly 34 years ago did not go unnoticed.
Some official details Abour B-21
Secretary of Defense LLoyd J. Austin took the podium. He confirmed that the B-21 will remain a continental-based aircraft. It means it doesn't need to be deployed as close as possible to operational areas like the B-2 bombers based in Whiteman (Missouri, Missouri). These planes are said to be far more advanced than even the very advanced B-2 Spirit planes used by the United States.
B-21 Raider, an aircraft with dual attack capabilities; May carry conventional or nuclear weapons. Raider has also been developed to be very easy to maintain and also designed in open architecture so it can easily use newly developed technologies.
There is no exact date yet, but with the announced entry into service for 2026-2027, the US Air Force will have 4 types of strategic bombers;
The Army, which will retire the B-1 and B-2 aircraft in the next 10 years, will instead take the B-21 and B-52s into the inventory.