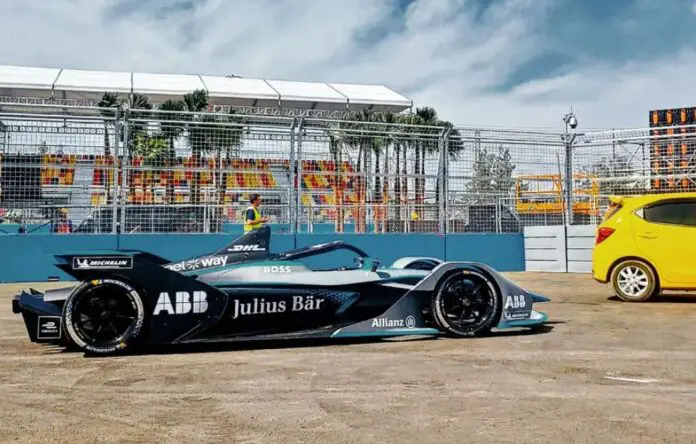 News about Formula E 2022: In Jakarta (Indonesia), Mitch Evans set the tone in the Jaguar. And: When the Gen 3 cars start in 2023, McLaren will also be there. A ll news about races, dates, teams, drivers, fan boost rules as well as results and points (table).
NEWS ABOUT FORMULA E 2022: EVANS WINS IN INDONESIA
For a long time, the British sports car brand and racing team McLaren toyed with the idea of ​​being involved in Formula E, and in 2022 the decision was made to get involved from 2023. The Brits will take over the outgoing Mercedes team. While Mercedes Formula E boss Ian James continues his role at McLaren, there is still a question mark among the drivers. Reigning champion Nyck de Vries will primarily focus on a possible Formula 1 cockpit, while keeping Stoffel Vandoorne seems more realistic. The Belgian knows McLaren well and drove for the team from Woking in Formula 1 from 2017 to 2018. It is also unclear who will provide the drive technology from 2023. She will probably not come from her own house. McLaren already has a well-stocked portfolio with Formula 1, Indycar and Extreme
CALENDAR: THE DATES (RACES) OF FORMULA E 2022 (TABLE)
After the Formula E race in Vancouver (Canada) was canceled in 2022, a replacement has now been found in Marrakech (Morocco). The E-Prix in North Africa will already rise on July 2nd. The street circuit is an old acquaintance for the electric formula series: Formula E has already made guest appearances there three times, most recently in 2020 when Antonio Felix Da Costa triumphed. Even before that, changes had to be made to the racing calendar. Nothing came of the race in Cape Town (South Africa) and a replacement on March 5 could not be found. The championship will make its debut on June 4th in Jakarta, Indonesia. Otherwise, the calendar features both well-known and new circuits for the electric racing series. Once again, Diriyah will host the opening races in Saudi Arabia. Pascal Wehrlein and Co. were also on the road in Mexico City, even if 2021 was driven in Puebla instead. Rome, Monaco and Berlin have long been among the cities on the calendar, also in 2022. At the end of the season, Formula E will have double races in New York (USA), London (Great Britain) and Seoul (South Korea).
| | | |
| --- | --- | --- |
| Route | Deadline | winner |
| Saudi Arabia (Diriyah) | January 28th | N. de Vries |
| Saudi Arabia (Diriyah) | January 29th | E. Mortara |
| Mexico (Mexico City) | February 12th | P Wehrlein |
| Italy (Rome) | 9. April | M. Evans |
| Italy (Rome) | 10. April | M. Evans |
| Monaco (Monaco) | 30. April | S. Vandoorne |
| Germany Berlin) | 14. May | E. Mortara |
| Germany Berlin) | 15. May | N. de Vries |
| Indonesia (Jakarta) | 4. June | M. Evans |
| Morocco (Marrakech) | 2nd July | – |
| USA (New York) | 16th of July | – |
| USA (New York) | 17th July | – |
| United Kingdom (London) | 30th July | – |
| United Kingdom (London) | July 31st | – |
| South Korea (Seoul) | 13. August | – |
| South Korea (Seoul) | 14. August | – |