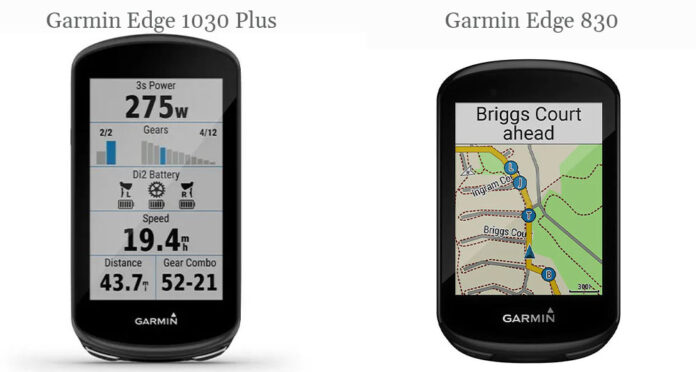 Edge 830 and Edge 1030 Plus are the two pf GPS computers of Garmin which have many similar features. To list the GPS computers in order, We can list them as following:
Edge 830
The top model Edge 1030 Plus
The popular & affordable Edge Explore
In terms of price
, the 830 is between these two models (RRP):
The 1030 Plus starts at €599,99,
the 830 from €399,99,
the Explore from €249,99.
---
Edge 830 vs Edge 1030 Plus Comparison
The Edge 830 is similar to the Edge 1030 Plus in many ways, except for the following differences:
The 830 is lighter & more compact, the display correspondingly smaller.
The battery life of the 830 is shorter.
The 830 has only 16 GB of memory (32 GB on the 1030 Plus).
With the 1030, the touchscreen sensitivity can be adjusted.
The Edge 830 display appears slightly brighter, more contrasting and more colorful at maximum illumination.
The menu and all settings are practically identical except for a few points.
The 1030 Plus has sophisticated re-routing options when deviating routes.
With the 830, Garmin dispenses with the daily training suggestions.
The 830 as well as the 1030 Plus stand out clearly from the Edge Explore. After all, Garmin has different target groups in its sights.
While the Explore is intended more for leisure and touring cyclists – who primarily want to navigate – the 830 and the 1030 Plus are interesting for all performance-oriented bikers who need fully equipped GPS bike computers with all imaginable training functions.
With the Edge 530, Garmin still has a sibling model to the Edge 830 in the program. The Edge 530 is operated exclusively with buttons and has slightly fewer navigation functions – it is priced around €100.- cheaper.